Admissions

Scholarship Opportunities

LOUISIANA'S PRIVATE SCHOOL SCHOLARSHIP PROGRAM
The Louisiana Tuition Donation Program allows qualified Louisiana children to receive scholarships to qualified K-12 private schools, allowing parents to choose the school that will best prepare their children for college, careers, and for life. ACE Scholarships Louisiana is a school tuition organization and offers scholarships to qualified children on a first-come, first-served basis for as long as funds are available. Applications for the 2019-2020 school year will be available at midnight on March 1, 2019, on their website, www.acescholarships.org. Current ACE Scholarships Louisiana students must complete the online renewal application form that was emailed to you on February 1, 2019, and need to be submitted no later than April 30, 2019.
DOES MY CHILD QUALIFY FOR A SCHOLARSHIP?
1. Your child must be a resident of Louisiana.
2. Your family income is less than the amount listed in the chart below.
3. One of the following statements must be true:
Your child attended a Louisiana public school during the 2018-19 school year.
Your child participated in the Louisiana Scholarship Program/Tuition Donation Credit Program during the 2018-19 school year.
Your child will be attending kindergarten for the first time during the 2019-20 school year.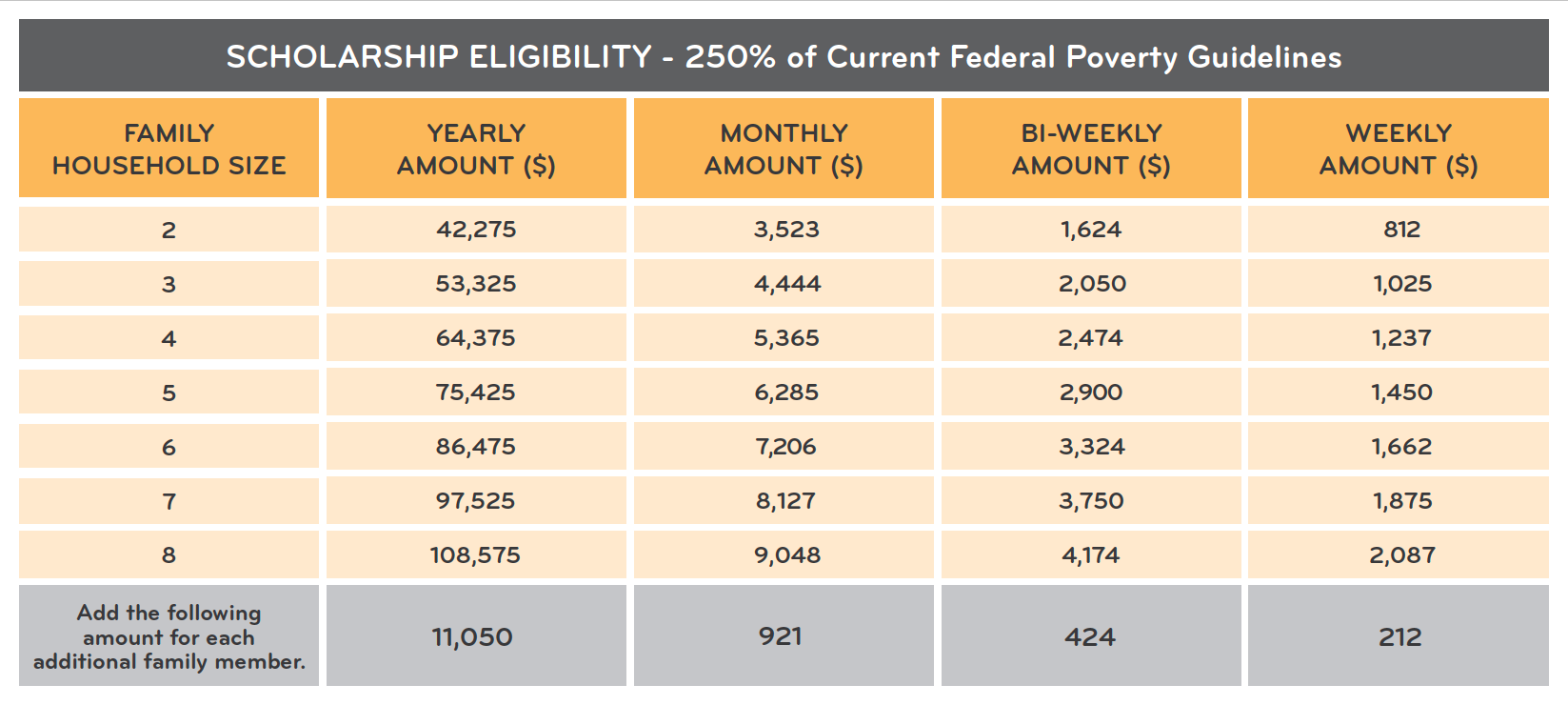 HOW DO I APPLY?
ACE Scholarships will be accepting applications for the 2019-20 school year on March 1st. The application will open at midnight on March 1st, with a link to the online application form on the homepage of the website. You will need to provide proof of income and proof of residency documents in order for your application to be complete. Scholarship availability is on a first-come, first-serve basis, with priority given to students who received a scholarship in the previous year.
WHO PAYS WHAT?
An ACE Scholarship is worth a maximum of $4,200 per year for grades K-8 and $4,500 for grades 9-12. Scholarship cannot exceed the full amount of tuition and fees at the school. The families are responsible for working out a payment plan with the school for the remainder of tuition.
THE ACE SCHOLARSHIP CAN FOLLOW YOUR CHILD.
If your child is awarded a scholarship, those funds are portable during the school year and may be used at any qualifying private school. So, if the private school you select ends up not being the right fit, you can transfer your child to another partner private school, and the scholarship goes with them.