TRADEMARK POLICY
In 2018, a team was formed to evaluate the current brand identity system used at Teurlings Catholic High School. Led by our mission "to develop each individual's ability To Channel His Spirit for the glory of God", our team set out to update and unify our brand in order to better position our school for continued growth.
One of the primary goals with this initiative was not to simply change our identity, but rather evolve it in a way that maintains the history and character of our past. In addition, we wanted to unify our brand, both internally and externally, and better represent our Catholic faith, whether it be through academics, clubs and organizations or athletics.
As Rebels for Christ, we are proud to show our love for God at Teurlings and remain grateful for all of the many blessings we have received over the years. Now, as we launch our new identity system, we are reminded of these blessings, and just how far we have come since Msgr. Teurlings helped establish Teurlings in 1955.
Thank you to everyone who has helped make Teurlings what it is today, as well as each student that currently or has once called Teurlings home.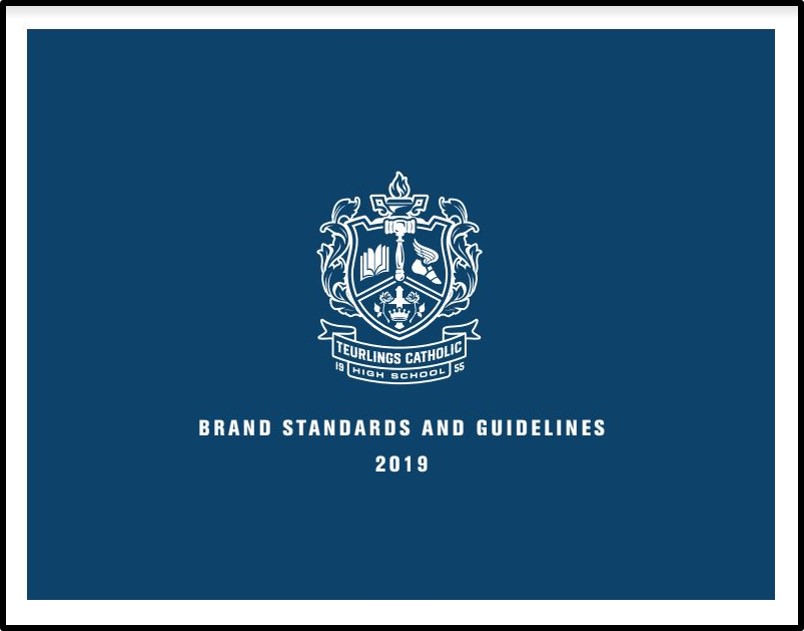 ---
The following is an overview of the current marks and identities being used to represent Teurlings Catholic High School. Please refer to the official brand guidelines for proper usage and applications.
1 – TEURLINGS Logotype w/ signature
2 – TEURLINGS TCHS Logotype w/ signature
3 – TEURLINGS Primary Crest
4 – TEURLINGS w/ crest
5 – TEURLINGS Primary Icon w/ cross
6 – TEURLINGS "Rebels" Atheltic Mark V.1
7 – TEURLINGS "Rebels" Atheltic Mark V.2
8 – TEURLINGS Secondary Icon without cross
9 – TEURLINGS Student Spirit Mark
10 – TEURLINGS Student Club Mark
11 – TEURLINGS Student Athletics Mark
12 – TEURLINGS Alumni Mark
Only officially recognized departments, personnel, individuals and groups of Teurlings Catholic High School are authorized to use the school's name or logo and only with prior approval from the TCHS Office of Advancement. The trademarks of Teurlings Catholic High School may not be distorted, modified, or infringed upon in any way. Contact the Office of Advancement prior to the design and/or planning of use of school identification on items such as but not limited to: publications, t-shirts, websites, documents, letterhead, stickers, decals, or promotional items. A proof of final design should be approved by the Office of Advancement, Public Relations Director, Tiffany Parks (tparks@tchs.net).