CROSS COUNTRY
Head Coaches: Mrs. Pilar Burson, Ms. Kelly LaMaison
Assistant Coach: Daniel McNair
Girls State Champions 1983, 1985, 1986 State Runners-up 1987
Boys State Champion 1985, 2019, 2021 State Runners-up 1974, 1986, 1987, 2019, 2021
With varsity, junior varsity and freshmen squads, the cross country team begins practice in early August. The season concludes with the state championship in November. One reward of cross country running is a solid conditioning base for the spring track and field season. Cross Country is open to all students.
---
Teurlings Catholic will host multiple races this season
Payment information and race times can be found by clicking here!
HIGH SCHOOL RACES
September 21, 2021 - High School JV Race - 2 miles
Deadline - SATURDAY, SEPTEMBER 18, 2021
4:30 Girls, 5:00 Boys - Acadiana Park
October 5, 2021 - High School JV Race - 2 miles
Deadline - SATURDAY, OCTOBER 2, 2021
4:30 Girls, 5:00 Boys - Acadiana Park
October 9th - RUN FOR A CURE - High School Varsity and JV- 3 mile races
Deadline - SUNDAY, OCTOBER 3, 2021
(Middle school Run for a Cure now hosted by St. Cecilia)
October 16, 2021 - SNL High School Meet
MIDDLE SCHOOL RACES
CANCELLED - RESCHEDULED OCTOBER 20TH
September 28, 2021 - Middle School 2 mile race
4:30 Girls, 5:00 Boys - Acadiana Park
October 13, 2021 - Middle School 2 mile race
4:30 Girls, 5:00 Boys - Acadiana Park
October 20, 2021 -- Middle School 2 mile race
Time - TBA
Acadiana Park
Registration deadline is Friday, October 15th
---
2021 TCHS CROSS COUNTRY SCHEDULES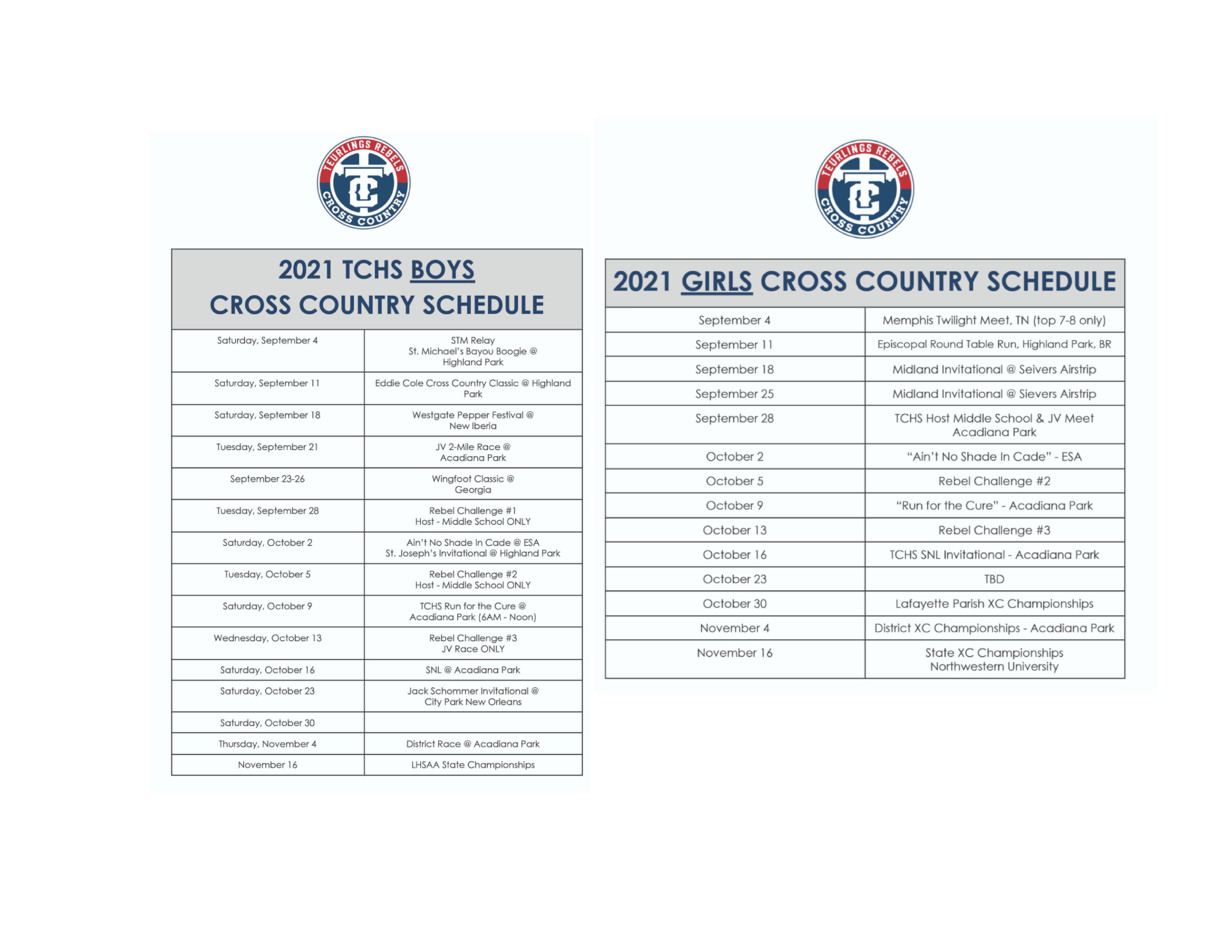 SENIORS
Broussard, Paige
Guidry, Lexi
JUNIORS
Bourgeois, Elise
Champagne, Olivia
Colarelli, Cammi
Cole, Kate
Cornett, Amber
Femmer, Isabel
Padgett, Abby
Godchaux, Vivian (Mgr.)
SOPHOMORES
Barry, Emily
Dupuis, Amelie
Dupuis, Angelle
Leon, Maddy
Pavy, Maria
Theriot, Alyssa
Thibodeaux, Ana
Toups, Celie
Trahan, Lauren
Trahan, Linsey
Weng, Angela
FRESHMEN
Benoit, Lanie
Brasseaux, Della
Briley, Sophia
Guidry, Isabella
Hamlin, Caroline
Landry, Abigail
Landry, Allie
Landry, Reese
Lowenstein, Ariana
Theriot, Allie
Toups, Celie
SENIORS
Cameron Kelly
Pascal Cazayoux
Bennett Bodin
Ian Johnson
Landon Degeytaire
JUNIORS
Jude Guidry
Will Robichaux
Blaise Monic
Harvey James
Wil Cramer
Asa Leger
Cy Daigle
Ben Gibson
Gabriel Delhomme
Archie James
Ty Pippen (Mgr.)
SOPHOMORES
Noah Bernard
Kaden Simon
Camden Schwander
Jude Greenman
Gibb Broussard
Brennan Boyer
FRESHMEN
Peyton Potier
Zan Johnson
Logan Heileman
Harrison Marceaux
Noah Schmidt
Jack Rochon
Matthew Rushing
Nathan Rider
Keaton Ryder
Jacob Boudreaux