VOLLEYBALL
Head Coach: Mr. Terry Hebert
Assistant Coaches: Mrs. Meredith Hebert,
Mrs. Lauren Carrigee
State Champions 2013, 2014, 2015, 2016, 2017, 2018, 2019, 2020
State Runners-up 1992, 1995, 1997, 2021
The girl's volleyball program consists of varsity, junior varsity and freshman squads. Practice begins in early August and concludes with the state tournament in November. Practice consists of gymnasium practice, weight training and summertime conditioning. Tryouts take place in June.
---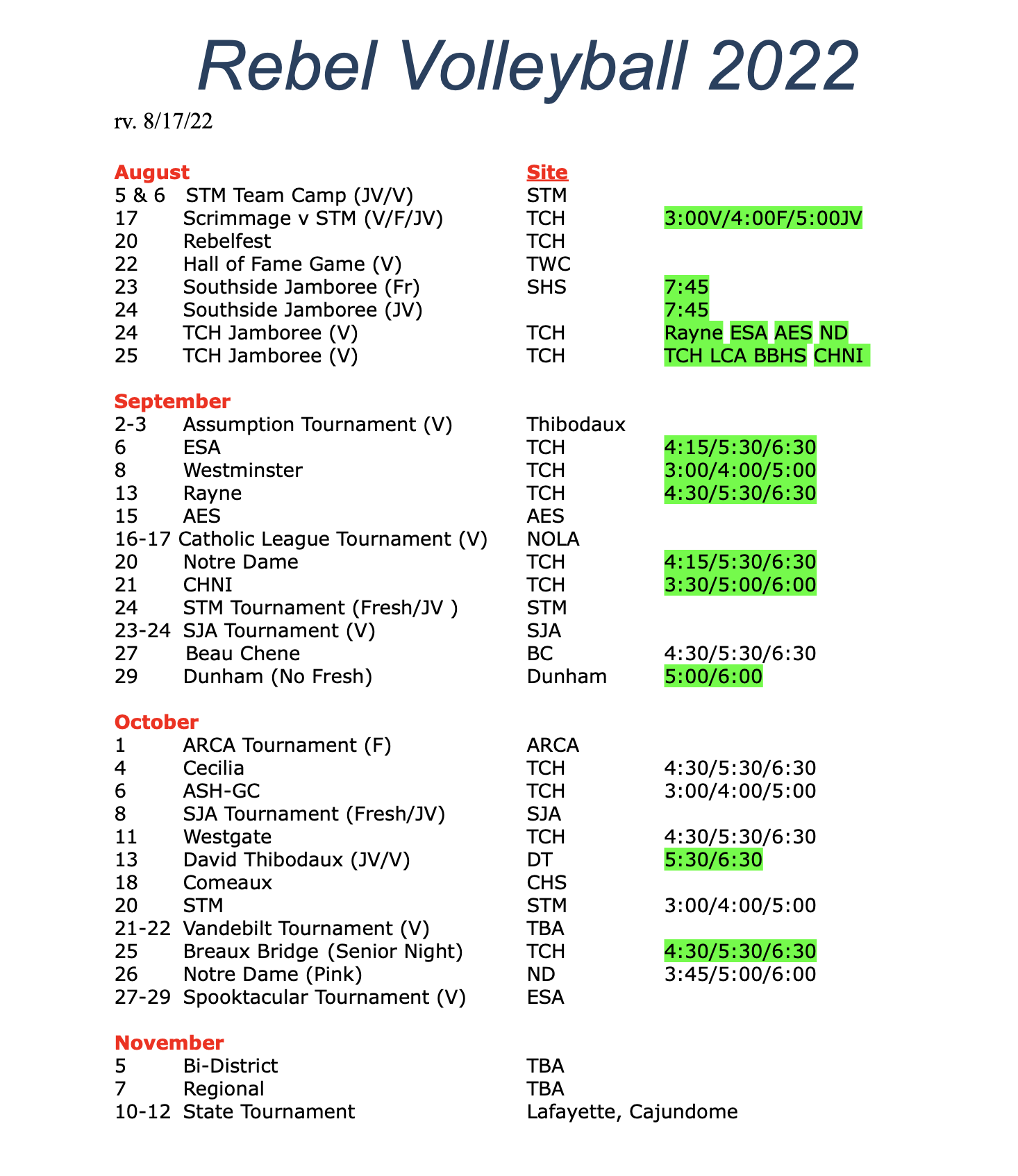 2022-2023 Rebel Volleyball Team
Asberry, Dee
Blanchard, Brooklyn
Boone, Haylee
Boulet, Charli
Brasseaux, Reese
Broussard, Amber
Broussard, Ava
Cormier, Arley
Cramer, Madelyn
Dalfrey, Trista
Delhomme, Lindsey
Fobbs, Madisen
Fontenot, Carson
Godchaux, Olivia
Guilbeau, Ava
Hebert, Anna Claire
Hebert, Ava
Hebert, Elizabeth
Hebert, Isabelle
Hebert, Olivia
Hillman, Hayley
Jones, Sage
LaFleur, Ally
LaFleur, Skylar
Lopez, Bella
Lanclos, Aubrey
Luneau, Lily
Martin, Addison
McGuire, Molli
Meagher, Kylie
Meaux, Addie
Nonato, Kenely
Polanco, Ana
Sinegar, L'Oreal
Trahan, Lundent
Trahan, Whitney
---