Monsignor William Joseph Teurlings, P. A., V. G.
Protonotary Apostolic
Vicar General
Domestic Prelate
Hon. Canon of St. John Cathedral
Diocesan Consultor
Quick Facts
Born: January 27, 1872
Died: December 28, 1957
Birthplace: Tilburg, Netherlands
Ordained: June 29, 1894
Arrived in New Orleans: February 15, 1895
Assistant: Abbeville, February 16, 1895
Pastor: Cameron, November 5, 1895
Pastor: Washington, December 15, 1898
Pastor: Lafayette, St. John's Cathedral, November 15, 1908
Pastor: Lafayette, St. Genevieve Church, February 1, 1929
On April 29, 1954: Diamond Sacerdotal Jubilee
Monuments to God built under his administration
Cathedral of St. John the Evangelist
Cathedral High School
St. Genevieve Church
St. Genevieve School
St. Genevieve Cafeteria
St. Paul's Church
St. Patrick's Church
St. Leo's Chapel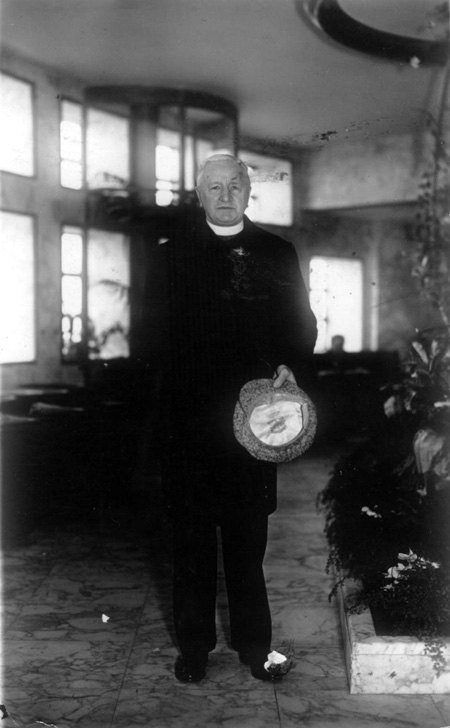 Brief Biography:
*The text below is copied, edited and excerpted from the program celebrating his 60th anniversary to the priesthood. The full program can be viewed here:
Jubilee Program
William Teurlings' life began in Tilburg, Holland, on January 27, 1872 where he was born to Cornelius Teurlings and Frances Mulders. Shortly after his birth, the family moved to the historic and ancient city of Nymegen, surrounded by the high walls and protective moats which had been built some 2000 year earlier. In these surroundings he discovered his vocation to the priesthood and his desire to come to America to spread the Faith.
He showed such a superior intellectual aptitude that at four years of age, he was placed in the Sisters' School at Nymegen. Later he attended the Brothers' School in the same city. His higher education took him first to the Dominican College at Nymegen, and from 1890 until the day of his ordination on June 29, 1894 he was a student of Philosophy and Theology at the American College of Louvian, Belgium.
At the age of 22½, one year short of the required age, he was ready for ordination. Special dispensation had to be secured from the Holy Father, and on June 29, 1894, in Louvain at the hands of Archbishop Francis Janssens of New Orleans, his dreams came true. He landed in New Orleans in January, 1895 during one of the few raging snow storms Louisiana has ever known. His first assignment was that of assistant in Abbeville, where he served for six months.
In October 1895, he was appointed pastor of a territory stretching for 120 miles along the Gulf of Mexico, and which embraced Cameron, Cheniere Au Tigre, St. John's Bridge and Pecan Island. The conditions at Abbeville, which had seemed primitive, took on a "beauty and substance of solid comfort" when he took over this, the most difficult post in the Archdiocese of New Orleans. There were no roads, only muddy stretches along ridges which lay between treacherous swamps and marshes; there were no conveniences. Two personal moral boosters he brought with him: his Kodak (camera) and his piano. His piano was his greatest comfort.
Fatigue, discomfort, overwork, loneliness and solitude could not daunt this intrepid spirit, but what they failed to do was accomplished by a germ of typhoid-malaria. After three years devoted to this mission post, young Père Teurlings was sent to Washington, Louisiana, leaving behind, not only new mission chapels, but also an aroused flock, determined never again to sink into an apathy of spiritual, educational or cultural values.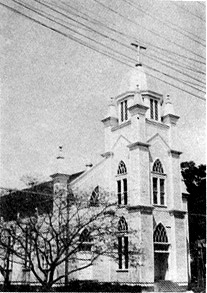 In short order, the entire population of Washington, Jews, Catholics, Protestants, blacks and whites, had fallen under the spell of this inspiring and dynamic personality. There occurred a great religious re-awakening. This was paced by a civic drive that followed his leadership. The church soon became the center of all the town's activities.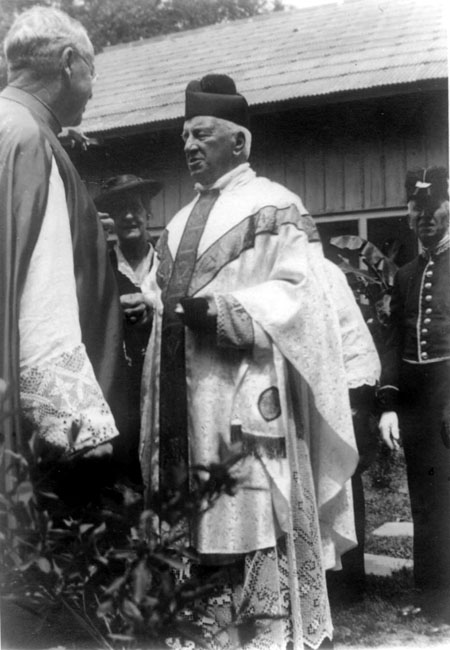 At this time, there was no church for the blacks in Washington and there were no funds to build a chapel, but with free labor Father Teurlings simply added another wing to the white people's church; and then as today, the two races in perfect harmony attended the same services, sent their children to the same catechism classes, made their First Communion together, and cemented respect for the real "freedom of religion." This was somewhat in contrast to Father's previous experience in Cameron of a mixed racial First Communion when he went to church with a pistol in his pocket to prevent trouble!
Fr. Teurlings was 34 years old when he assumed the pastorate of St. John the Evangelist. At the time of his appointment, the city of Lafayette had a population of 8,000, and where the magnificent Cathedral of St. John now stands, there was instead an old frame building. In 1909 the funds' campaign for the building of a new church was begun and the young pastor headed the committee working towards this great endeavor. Before actual work began on the new St. John's church, Father Teurlings opened his heart to the pleas of black Catholics of the city who had appealed to him for a church of their own. The people of St. John's donated the windows from their little church and since St. John's was not completed until 1916, their church had batterns on the windows for about four years! Archbishop Blenk of New Orleans blessed the new Church of St. Paul in 1912 and Father Teurlings conducted services there for two years. At that time it was considered the second largest black parish in the United States.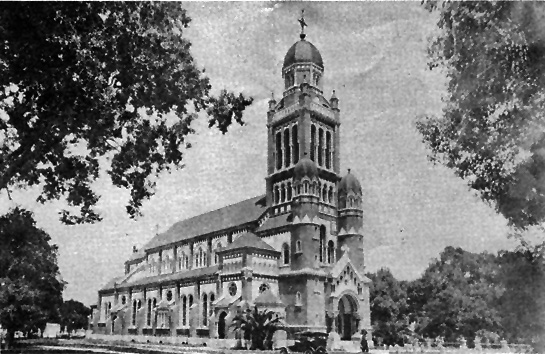 On November 21, 1913, the cornerstone for St. John's Church was laid by Archbishop Blenk and the church was completed in 1916. In 1918 the Diocese of Lafayette was formed and the church of St. John the Evangelist became the Cathedral of St. John with Most Reverend Jules B. Jeanmard, the first Bishop of the newly formed Diocese of Lafayette.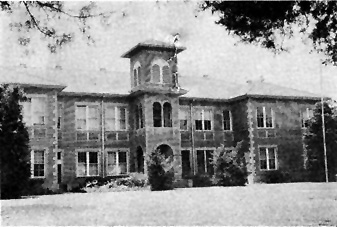 His deep interest in Catholic education was made manifest in 1919 when he invited the Brothers of Christian Schools to open a boys' school in the parish. The new school was dedicated in 1923 and called Cathedral High. In 1923, when the Sisters of Mount Carmel planned their new school building, Father Teurlings made an outright donation of $15,000 in the name of the congregation. He added this amount to the debt of the church.
In 1919, on the occasion of the silver jubilee of his ordination, the young priest was honored with the title of Canon of the Cathedral.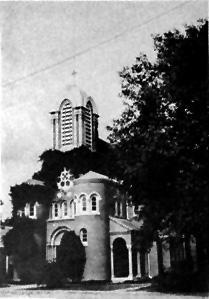 Father Teurlings realized the need of an additional church on the north side of the city. The building began to materialize in 1923 and St. Genevieve's was blessed on June 25, 1925. At this time, Fr. Teurlings became a domestic prelate with the title Right Reverend Monsignor. The honor was bestowed by Pope Pius XI.
In 1929, Msgr. Teurlings asked to be relieved of his manifold duties in Cathedral parish and be assigned to St. Genevieve's church as pastor. In 1938 the debts on the church were completely paid and it was enlarged to its present dimensions. During that same year a plot for a cemetery (Calvary) was purchased on the Breaux Bridge highway (Carmel Ave). In 1929, St. Genevieve became an independent parish.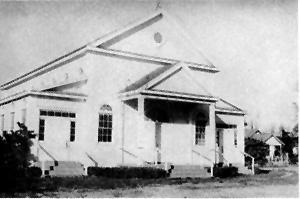 In 1946, another dream of Msgr. Teurlings was fulfilled with the completion of St. Patrick's Chapel on Guidry and Forest streets. This section had grown rapidly to the extent that the chapel became an independent parish in November, 1952.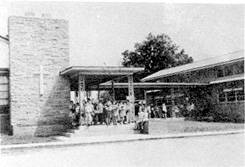 Monsignor's interest in education was again evidenced with his opening of St. Genevieve's Catholic school in 1945, a three-grade elementary school, staffed by the Sisters of Mount Carmel. The Divine Providence order took over in 1950. A new school building was completed in 1951. The new building housed grades one through eight and had an enrollment of 456.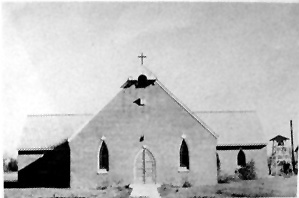 Meanwhile St. Genevieve's parish had continued to grow and the necessity for a Catholic chapel in the Moss Extension area became evident. To fulfill this need, Monsignor built St. Leo's Chapel which was blessed in December, 1951.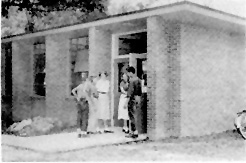 And in 1953, under the supervision of this zealous, untiring shepherd, a modern up to date cafeteria for St. Genevieve's School was completed and dedicated to Msgr. Teurlings who officiated at its opening.
Unfortunately, the text from the Jubilee Program ends there. Since his 60th Jubilee was in 1954, the program didn't discuss the opening of Fr. Teurlings High School which opened in the Fall of 1955.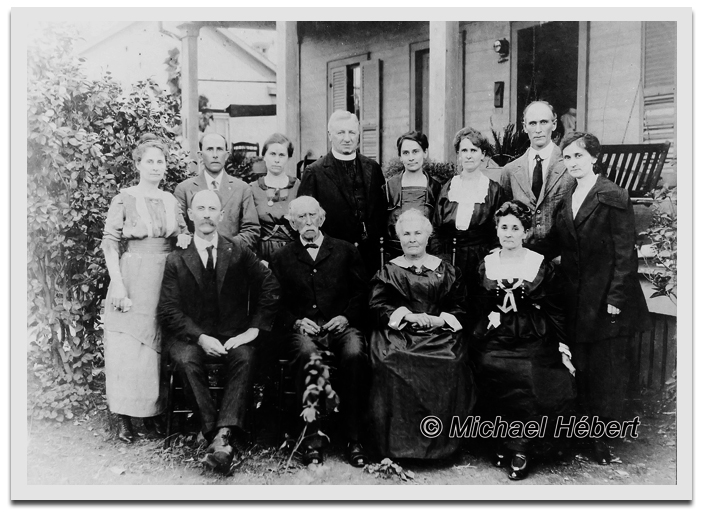 Msgr. Teurlings with the Magnon family
(Photo courtesy of Michael Hébert)

Monsignor Teurlings with his dog!