The honors and dual enrollment courses at Teurlings Catholic are designed to provide in-depth study in a given area. Students who are interested in these courses and who meet the requirements should speak with their counselor about gaining approval before requesting courses in the spring semester.

HONORS & DUAL ENROLLMENT PROGRAM
TCHS HONORS PROGRAM
Any incoming freshman who is interested in taking an honors course is required to take the PreACT.
Placement into Honors Courses for New Students (9th grade and new upperclassmen)
*A student must have earned a C or better in the corresponding course at the end of the 1st semester of the previous grade
*A student must have a minimum score of 20 on the corresponding subject test(s) on the most recent PreACT or ACT
*Honors English - 20 on English subject test
*Honors Math - 20 on Math subject test
*Honors Social Studies - 20 on Reading Subject test
*Honors Science
--Honors Biology I/II - 20 on Science subject test
--Honors Physical Science/Chemistry/Physics - 20 on Math AND Science subject tests
Placement into Honors Courses for Returning Students
*A student must have earned a final grade of C or better in the corresponding course in the previous grade
*A student must meet the minimum score requirements listed above. If not, the student can appeal to be placed in Honors. The Guidance Counselor and Academic Assistant Principal will review the student's academic record at TCHS (assignment completion and scores on teacher-made assessments), along with feedback from the student's current teacher in the subject area.

For any questions, contact Academic Assistant Principal, Ms. Lauren Schomaker, lschomaker@tchs.net or 337-235-5711 Ext. 233 or Freshman Guidance Counselor, Mrs. Dawn Aucoin, daucoin@tchs.net or 337-235-5711 Ext. 114.

TCHS DUAL ENROLLMENT PROGRAM
The Dual Enrollment Program, run in conjunction with Louisiana Tech University, Northwestern State University and the University of Louisiana-Lafayette, allows students to earn college credit while taking courses at Teurlings Catholic. Dual Enrollment courses are considered to be honors courses at Teurlings Catholic High School and count as such in determining honor graduate status. DE courses taught by on campus instructors are currently offered in English III, English IV, American History, World History, French II, Biology II (for non-majors), College Algebra, and College Trigonometry. Online courses offered during regular class hours may include Communications, Computer Science, Criminal Justice, Fine Arts Survey, Food and Nutrition, Geography, Psychology, Sociology, and Spanish III.
GPA Requirements
Seniors - no less than 2.75
Underclassmen - no less than 3.0
ACT Requirements by Course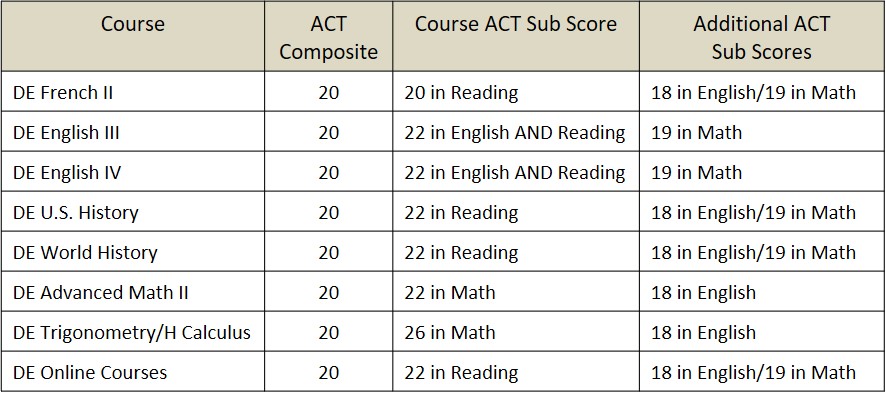 Students who do not earn a C or better in any Dual Enrollment course may not register for additional courses. Grading in Dual Enrollment courses is conducted according to the university guidelines and all Dual Enrollment grades will appear on all subsequent college transcripts. Dual Enrollment grades may affect the individual student's TOPS status during the first semester of college.
Fees for Dual Enrollment classes are set each year by the cooperating university/college and are paid directly to the university. Additional application fees will apply. Credit is issued for the college course by the appropriate institution, based on the college grading scale. Students, on successful completion of the course, receive credit for the high school course from Teurlings Catholic and for the college course from the university or college.
• Some courses require a minimum number of students in order to take place. If the minimum number is not met, the course may not be offered.
• Some courses have a limited number of spaces available due to Teurlings scheduling restrictions. Seats in these courses will be filled on a first come, first served basis with students who have the minimum ACT/GPA requirements at the time of scheduling.
---
FATHER JOSEPH F. BRENNAN ACADEMY
This academic pathway is a program of studies established in honor of former Teurlings Catholic High School Chancellor, Father Joseph F. Brennan. The designation of "Father Joseph F. Brennan Scholar" honors students who have met specific Curriculum, GPA, and Standardized Testing requirements throughout each of their 4 years at Teurlings Catholic High School. This challenging course of study requires students to schedule honors classes in all four core subjects each year. Eligibility for each of the courses requires a sub score in the 90th percentile in that subject for incoming Freshmen. All students will be reevaluated each subsequent year based on current standardized test scores and grades as posted in the school's handbook. In addition, a minimum cumulative GPA must be maintained and minimum PACT and ACT scores must be earned in order to maintain eligibility. Students who meet the requirements each year will be honored at the Fall Awards Ceremony the following year. Students must meet all criteria each year to continue to be recognized as a candidate for the final designation as a graduating Senior. Students who meet the criteria for all 4 years of High School will be awarded the distinction of "Father Joseph F. Brennan Scholar "at the Senior Honors Convocation prior to Graduation. The requirements to achieve the designation of "Father Joseph F. Brennan Scholar" as a Senior are listed below.
Freshmen H Algebra or H Geometry H Physical Science H World Geography H English I 3.5 Cumulative GPA
Sophomore having met 1st year Scholar requirements H Geometry or H Algebra II H Biology H Civics H English II PACT of at least 25 3.5 Cumulative GPA
Junior having met 1st and 2nd year Scholar requirements H Algebra II or H Advanced Math I H Chemistry H/DE US History H/DE English III ACT of at least 28 3.5 Cumulative GPA
Senior having met 1st, 2nd, and 3rd year Scholar requirements H Advanced Math I, H/DE Advanced Math II, or H/DE Calculus H/DE Biology or H Physics H/DE World History H/DE English IV 3.5 Cumulative GPA
---
HONOR GRADUATE CATEGORIES
To achieve the distinction of Honor Graduate, a student must satisfy all of the following requirements:
* No final average in any course lower than a 78%
* A GPA of no less than 3.500
Teurlings Catholic will recognize the following Honor Graduates at commencement:
Msgr. Charles Fortier Honor Graduates: 4.000 grade point average and a minimum of 11 completed honors courses.
Father Bede Becnel Honor Graduates: 3.500 grade point average and a minimum of 11 completed honors courses.
Sister Angelle Bell Honor Graduates: 3.500 grade point average and a minimum of 9 completed honors courses.
Sister Julie McDougall Honor Graduates: 3.500 grade point average and a maximum of 8 completed honors courses.