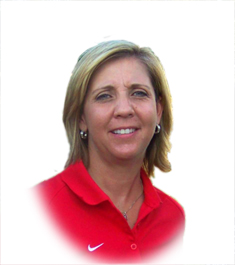 The Teurlings Catholic family mourns the loss of Terri
Louque
Baudier
, assistant principal, who passed away on Saturday, April 26, 2008. Mrs.
Baudier
was a dedicated and loving educator who will be dearly missed.

Photos and memories about Mrs. Baudier's life are shared on this page as it develops. Your help would be greatly appreciated! If you have photos of Mrs. Baudier (any age) or stories about her, please send them to feedback@tchs.net


Terri L. Baudier Memorial Fund

Mr. Bruce Baudier, daughter Brie, family members, and friends of former TCH Assistant Principal Terri L. Baudier (1996 - 2008) have established the fund in her name. Said her husband, "Terri loved TCH along with every student that ever walked through its main breezeway. She always felt that the good in every student was only a conversation away. Fair and compassionate are two qualities that allowed Terri to be a model for Catholic education." The annual interest earned by the fund will be used as the family wishes towards maintaining the educational excellence at Teurlings Catholic High School. For information regarding the fund, contact the Development Office at (337) 235-5711 ext. 128 or mhanes@tchs.net

In Loving Memory of Terri L. Baudier

This section contains photos, information and stories about Terri. We encourage you to share pictures or stories about Terri, including her life away from TCH and her earlier years. If you have anything to share (photos or stories) about Terri, please send them to: feedback@tchs.net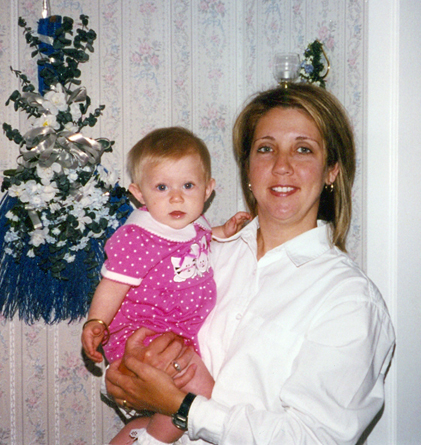 Excerpt of article written by Kent Masson, faculty moderator Rebel Yell (Volume 9, No. 7, May, 2008)
The Teurlings Catholic community came together in the TCH gym on Monday, April 28, 2008 to say goodbye to one of their own.
Mrs. Terri Baudier, Assistant Principal in charge of discipline, passed away on April 26th as a result of injuries sustained in an automobile accident. She was 43.
Teurlings Catholic held a prayer service to honor the memory of Mrs. Baudier. The gym was filled to capacity. There was a table covered with memories of Baudier and symbols representing who she was and what she meant to the school. Fr. Buddy Breaux gave a stirring Homily, saying this is a difficult time and it is hard to express how everyone feels. "Sometimes silence is everything," Fr. Breaux said. "We don't necessarily have to say anything to get our point across."
Principal Mike Boyer said that Baudier would forever remain in our hearts. "She will be there whenever we have something special going on here. When the baseball team takes the field and there's a ground ball we might not be able to get, she will be there to push us a little closer and make the play."
Mrs. Baudier has been part of the TCH family since 1996 and will forever remain a member of the family.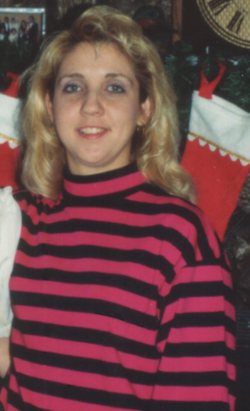 Terri in her teenage years at Christmas time
NOTES TO TERRI
"She was an excellent role model for how I want to be when I grow up. She will be missed a lot." - Emily Comeaux

"I wish this didn't happen to you. I wish I could go back in time and make this never happen. But when God calls his servants back to him, we just don't know when, how, or why. The only thing we can do is pray for us to understand that everyone has to die someday and to accept the fact that it happened. I hope you are in Heaven right now looking down on us and wanting us not to grieve over you. I hope you had a successful life and everything you ever wanted." - Sean Alfred
"I know we've barely spoken but you have made such a huge impact on my life. There are so many unlearned lessons that you haven't taught me. I know you had a reason for everything you did. It was God's plan for it to happen like this. I have no doubt that right now you are looking down upon us from Heaven holding God's hand. Thank you for being such an inspiration and an amazing role model. Thank you for always being there in the background watching out for all us students. I know you'll never leave our side. I love you Mrs. Baudier. Keep Teurlings safe as always. Teurlings will never forget you because you will never really leave." - Mallory Pontiff
"Thank you for all of your support throughout my athletic career" - Taylor Dugas
"She was a great leader and a wonderful lady. She will be missed greatly by everyone. Her family will always be in our prayers." - Ashley Trahan
"I know I didn't know you personally, but one thing I do know is that you had this school in line. You made a difference in so many people's lives. You will be missed dearly Mrs. Baudier. We love you. Once a Rebel, always a Rebel."
"Thank you for never giving up on me, when everyone else would."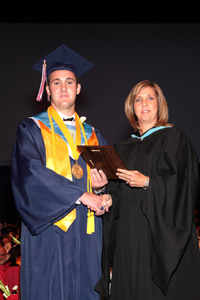 Terri with Allen Latour, Graduation 2006
Eulogy by Josette Surratt
When I was asked to speak to you today about Terri, I immediately thought how can I properly honor someone who seemed larger than life in so many ways. Terri impacted thousands of kids that she coached, taught and yes, even disciplined. But it wasn't just the kids that were touched by this amazing woman. Her colleagues, friends and family were equally influenced by a woman who truly represented the best in life.
Terri loved people and had a way of making every body feel as if they were the most important persons in her life. She had an attention to detail in everything that permeated her life and whatever she did, she did well.
I was privileged to know Terri for 17 years and she truly played a significant role in my life. I'd like to spend some time talking about how most of us knew Terri. Either as an educator, a friend, a wife, mother, daughter or sister.
I first met Terri in 1991 when she moved to Lafayette to assume the role as the new Head Coach of the St. Thomas More Volleyball team. It didn't take long for her to quickly become a favorite with both students and faculty. As a teacher she was strict, but funny, and she taught her classes with so much energy and creativity that, year after year, many students scheduled her Psychology class. As a coach, she was a tremendous success, but Terri herself would tell you that wins and losses were not her greatest accomplishment.
What she was most proud of, however, was seeing someone who didn't believe in themselves or in their abilities, develop into a confident and loving person who was ready to take on the challenges of this world.
In 1996, Terri took over as disciplinarian at Teurlings. With her counseling background, she brought the perfect combination of a firm yet compassionate approach to discipline. Her humility, fairness and consistency earned her the respect of her students, her faculty, and her peers. In my 35 years as an educator, never had I worked for someone who could discipline so effectively and still have the love and respect of her students. She was a "champion of the underdog" and agonized over decisions she knew she'd have to make. To say that she "never gave up" on a student would be an understatement because often, we as teachers were baffled as to what Terri saw in that student that we had possibly missed. But we trusted her and believed in her. As one student so appropriately stated, "She was the first to catch your mistake, but she was also the first to forgive it."
Terri's dedication to her students and her profession was also evident in her efforts to form a roundtable of disciplinarians from area schools who met regularly to discuss how to best approach different challenges they faced. I truly believe God chose Terri for this role because He knew that every decision she made would be thought out with the best interest of the student at heart.
As good an educator as Terri was, she was an even better friend. She was loyal, she was thoughtful and nothing gave her more joy than having fun with her friends. She loved sending cards to people, whether it was for a birthday or just to brighten someone's day. When I asked her how she could remember so many birthdays year after year, she shared her secret with me. She said that at the beginning of each month she would buy all the cards for that month's birthdays. She'd write personal notes and address them all and then mail them individually as each special day approached. She was organized down to the postage stamp. Terri's thoughtfulness was apparent, for she always found time to visit, to encourage, or to share a good laugh with her friends.
Terri also loved connecting people to one another because she wanted everyone around her to be happy. She planted the seeds that led Danielle and Chad Farris to become husband and wife and on occasion, she even tried to set me up on a blind date or two.
I end with a quote from Ralph Waldo Emerson that I think best describes the Terri we knew and loved."To laugh often and love much; to win the respect of intelligent persons and the affection of children; to appreciate beauty; to find the best in others; to give of one's self; to leave the world a bit better; to have played and laughed with enthusiasm; to know that even one life has breathed easier because you have lived - this is to have succeeded."
Terri my friend...you have succeeded. We love you. We miss you. And your spirit will live with us forever.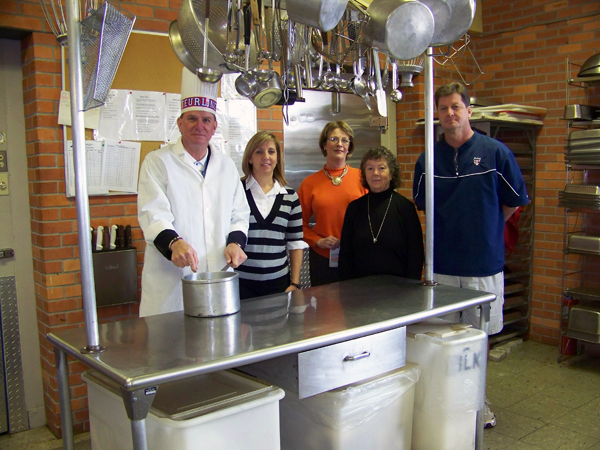 Mike Boyer, Terri Baudier, Aline Norwood, Marty Heintz, Sonny Charpentier. This group was one of the items up for bid in a silent auction fundraiser. They were billed "Administrative Chefs" and prepared/served meals for 10 in the homes of the winning bidders.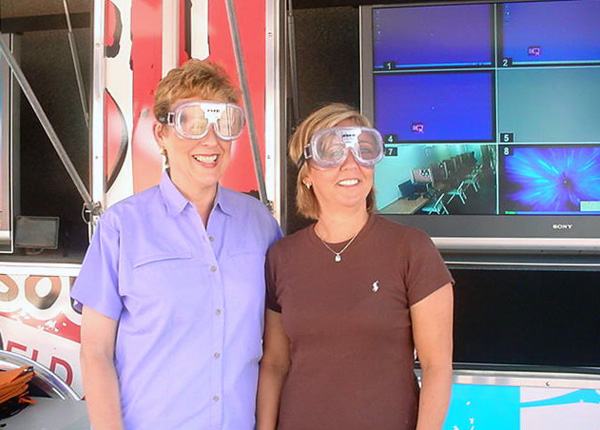 Linda Doherty and Terri Baudier - Crash Course 2007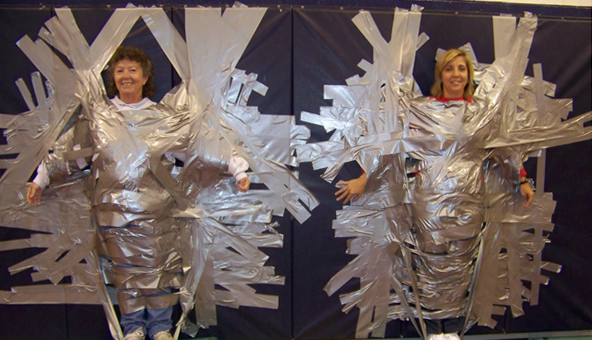 Marty Heintz and Terri Baudier duct taped to the wall for a Homecoming Pep Rally.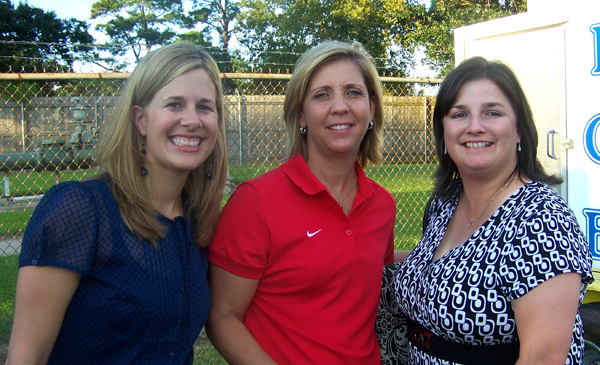 Danielle Farris, Terri Baudier and Dawn Aucoin at Homecoming 2007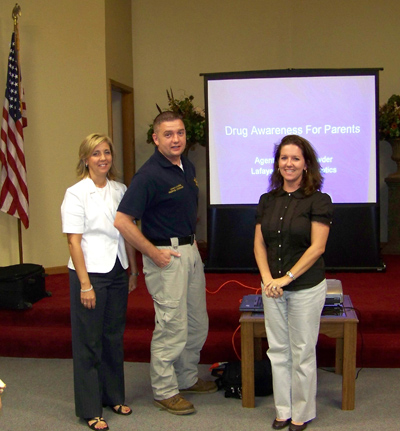 Rebel Resource Network Night - Terri Baudier, Agent George Crowder, Kim Hardy
Martin Answers Question - by Cathryn Martin
From the Rebel Yell (Volume 9, No. 7, May, 2008)
Who was Terri Baudier?
She was my Teurlings family.
She was my father telling me that she expected more from me. Which to think that you may have disappointed her was heartbreaking.
She was my mother taking my hand, hugging me and telling me to go home and be with my son who was sick as I cried in the hallway.
She was my little brother playfully teasing me about being so proud that I had finally written a detention.
She was my big sister always offering words of encouragement and giving you that feeling where you knew you were capable of more.
Mrs. Baudier was many things to me, much much more than just my Assistant Principal. And most importantly, she will continue to be an influence in my life.
She makes me want to be a better teacher, friend, and mother. She was a blessing in my life.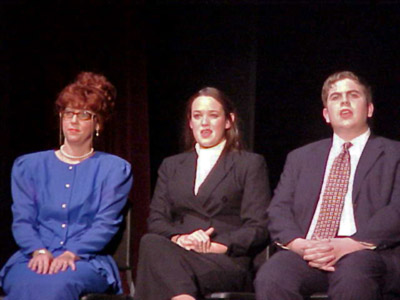 Terri loved the musical "Grease" and had a successful audition for the role of Principal McGee in the 2003 TCH Production of the musical.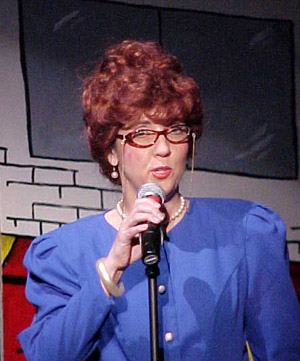 Even in acting, she loved her work.
All eyes are on Terri for Orientation in August 2006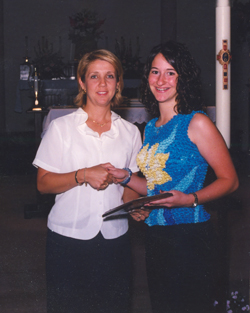 Terri on Honors Night, May 2002
Marino Remembers - by Vivica Marino
From the Rebel Yell (Volume 9, No. 7, May, 2008)
When I remember Terri, she is always smiling. She was our disciplinarian and she was tough, but in my mind she is smiling.
She was kind and compassionate. She was helpful and inspiring. There has been a lot of talk about her "discipline with compassion." It cannot be overused because it is how I will always know her.
I am not always compassionate - I believe the expression Ice Queen has been tossed about. Terri knew all of her teachers and mentored us accordingly.
She knew that I have a bit of a temper, so she always reminded me to compliment students when they get back on track. She also made sure that they got back on track.
I also often went to Terri on advice about being a mother. It was her favorite role and her most important. She mothered all of us at school - teachers and students - but her stories about Brie and about raising girls were my favorite.
We talked about clothes and shoes and working out (her work outs - not mine)...about fixing cereal for dinner.
She was funny and matter of fact, but above all she was awesome.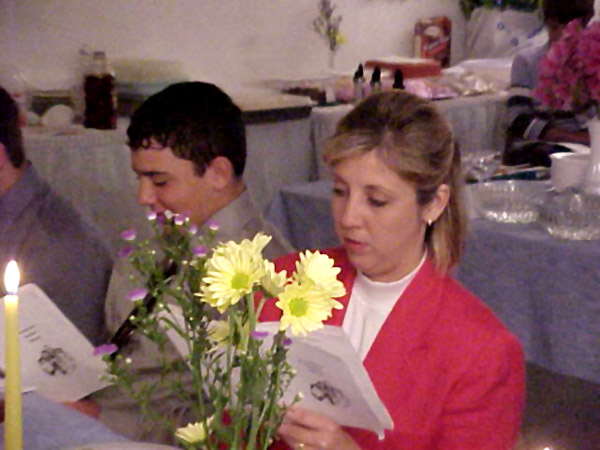 Attending Mrs. Brame's Theology Class 2002 Seder Meal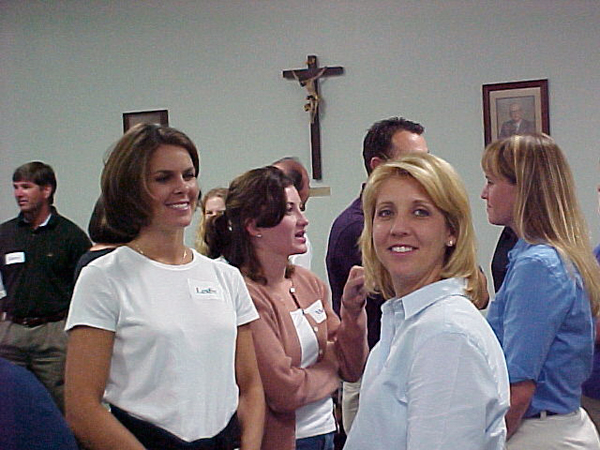 2001 TCH Faculty Retreat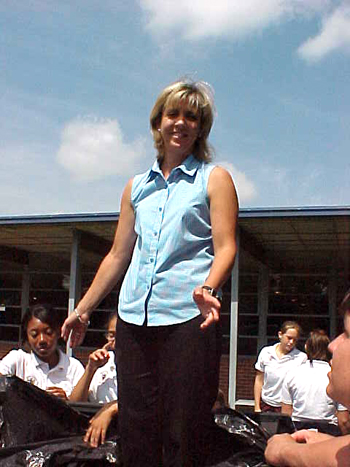 Terri leading the way for locker cleanup.

NOTES TO TERRI
"I didn't know your favorite food or color, your birthday or shoe size, but I know how much I wanted to tell you thank you for everything you have ever done for me. Please watch over me, because I think I still need some guidance."
"Mrs. Baudier was an awesome person and she is really going to be missed at TCH." - Camille Bordelon
"You helped me so much when I was going through a very hard time in my life. I will never be able to find a way to thank you enough. You will be missed dearly. Rest in peace."
"Mrs. Baudier was truly an amazing woman that will be greatly missed. It's sad to lose such a person that cared so much about us and was so important in our lives." - Ariana Angelle
"She was a big part of our Teurlings family. She will be greatly missed."
"Terrible, I didn't think anybody saw this coming."
"I know you always fussed at us and wrote us detentions and Saturday schools. We all talked behind your back because we didn't agree with it. But looking back, all you wanted was the best for us. When I walked into school today and I walked around campus, I passed by your office and just to know you were not going to be here today shattered my heart. It feels empty around here even though there are about 800 people on campus. You meant so much to us. You were someone to look up to."
"She was interested in everything we did, not just in school."
"She was an angel that will continue to watch over our school."
"Terri always spoke from the heart. She sensed what we needed."
"Great Disciplinarian. Did a good job; overall a great person."
"Fair to all, very understanding, kind-hearted, fair and also equal treatment."
"She was a great woman and will be missed dearly"
"I thought she was a wonderful lady who was really caring. She will be missed." - Elise Morrison
"Far in distance, but never in heart."
"She held TCH together, was a disciplinarian, and a wonderful person. She will be missed."
"I never really knew you that well, but from what I know of you, you were a wonderful person. I learned a valuable lesson when my dad died; everything happens for a reason. I also learned that without sorrowful times, we wouldn't know what the happy times are supposed to feel like. God has a master plan for everything, and everyone. You are a part of it. This life is just a stage to get to the better one. We love you, we miss you, and we are praying for you and your family."
"She was always forgiving, even if you did something you shouldn't have."