Msgr. Charles Fortier, who had spearheaded the drive for the new facility, appointed Father Bede Becnel first principal. When Teurlings first opened its doors in 1955, its reputation was that of a strict school which stressed fundamentals in education and religion.

Sister Angelle Bell served from 1957 until 1962. Under her leadership, the school expanded grade levels to include a four-year high school and was approved by the Department of Education. During those early years the academic standards of the state were met. Activities included Student Council, Library Club, 4-H Club, Girl Scouts, Home Economic Club, City Youth Council, Beta Club, Math Club, Music Appreciation, School Newspaper, and competitive speech. Equipment was purchased and athletic teams competing in football, volleyball, basketball and track were started.

Mr. William Michot served as principal from 1963 until 1965. During his brief tenure, construction was completed for the gymnasium, administrative offices and two science laboratory classrooms. Student Council and additional athletic teams competing in golf sponsored intramural activities for boys and girls and swimming was started.

Sister Julie McDougall served from 1965 until 1975. Concrete walkways were constructed connecting buildings, the administrative complex was air-conditioned, a cooling system was put into place for the classrooms, and the library was refurbished with equipment and furniture.

For the next ten years the school experienced great instability in the administration. Sister Ann Caroline Stromer served one year, 1975-76.

Mr. Harry Greig, an interim principal, served the school for three years, 1976-1979. During his administration a guidance department was established with a certified counselor. During these years the Advisory Council broadened its intense search for a permanent principal.

In the fall of 1979 the Advisory Council appointed Mr. Louis Hanemann principal. During his two years of administration the curriculum was expanded to include psychology, human physiology and music. A plan for improving public relations was put into effect. Brochures of the school were designed and distributed to new students.

In 1981, Mr. George Laird was appointed principal. In his four years, Mr. Laird was instrumental in effecting many changes on campus. New Faculty and Student handbooks were developed, Student/Parent Orientation Nights were introduced prior to the opening of school, and vandalism at the school was reduced by the installation of lights and a hurricane fence constructed around campus. Mr. Laird was instrumental in the planning of the Chapel on the school campus.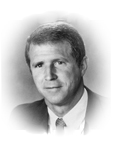 In 1985, Mr. Bruce Baudier was selected as principal. The school realized great progress during his twelve year tenure. The chapel was constructed, position of Development Director appointed, honor's classes added, 504 programs introduced, Renaissance Program designed, the discipline system modified and the school gained Southern Association of Colleges and Schools accreditation for the first time. The school constructed the granite sign in front of the school, girls' softball and basketball programs were added, the gym was renovated and the cafeteria expanded. Grandparents Day was incorporated, handbooks were updated, one school bus was donated another purchased, and the uniforms were changed. The Teurlings All Sports Club was established to represent all athletics, the administration utilized a team approach, and the Rebel Academic Backers Club became active. Probably the most noted or remembered change was the Board of Pastors' decision to remove the Rebel Flag as symbolic of Teurlings Catholic.

Since 1997, Mr. Michael Boyer has been the longest tenured principal in Teurlings Catholic history. During his tenure, Teurlings Catholic has experienced unprecedented growth (96%) in student population, facility, and in academic opportunity and athletic accomplishment. Under Mr. Boyer's leadership, facility transformation and modification projects include: a new administrative wing, weight room facility, two new computer labs, library renovation, driveway and parking lot improvements, new gymnasium floor and bleachers, an outdoor deck, addition of a thirteen-classroom wing, renovation of a five-classroom wing, restoration of the school's free-standing Chapel of St. Teresa of Calcutta, two new basketball locker rooms, and a new athletic center with weight room, locker room, and coaching offices. Construction of the turf football field and track and the new athletic stadium and complex allows on-site competition for football, soccer, and track and field. A new guidance department and Religious Formation building was completed in the summer of 2012. Two new classroom buildings housing seven classrooms, a faculty workroom, and a prayer garden was completed in the summer of 2016. The renovation of the cafeteria into two makerspace work rooms was also completed in the summer of 2018. Academic advancements include: Dual Enrollment classes aligned with three state universities for college credit, Louisiana Virtual School courses, and a continuum of an innovative and challenging college-preparatory curriculum. Campus-wide wireless Internet access and technology provide students with state of the art vehicles of communication. In January 2017, the school became 1:1 with computer technology.