SCHOOL CREST/REBELS FOR CHRIST MASCOT
In 2018, Teurlings Catholic High School, assisted by Lafayette based branding and advertising agency brandRUSSO, concluded a complete rebranding of the school's identity system. Led by our mission "to develop each individual's ability To Channel His Spirit for the glory of God", our team set out to update and unify our brand in order to better position our school for continued growth.
One of the primary goals with this initiative was not to change the identity, but rather evolve it in a way that maintains the history and character of its past. In addition, we wanted to unify our brand, both internally and externally, and better represent our Catholic faith, whether it be through academics, clubs and organizations or athletics.
A new insignia was created to represent the school in honor of its founder, Reverend Monsignor William J. Teurlings. The visual representation of the school became a custom cross with Rebels for Christ inscribed on a ribbon, to better symbolize the school's Catholic faith. As Rebels for Christ, we are proud to show our love for God at Teurlings and remain grateful for all of the many blessings we have received over the years. We are reminded of these blessings, and just how far we have come since Msgr. Teurlings helped establish Teurlings in 1955.
Thank you to everyone who has helped make Teurlings what it is today, as well as each student that currently or has once called Teurlings home.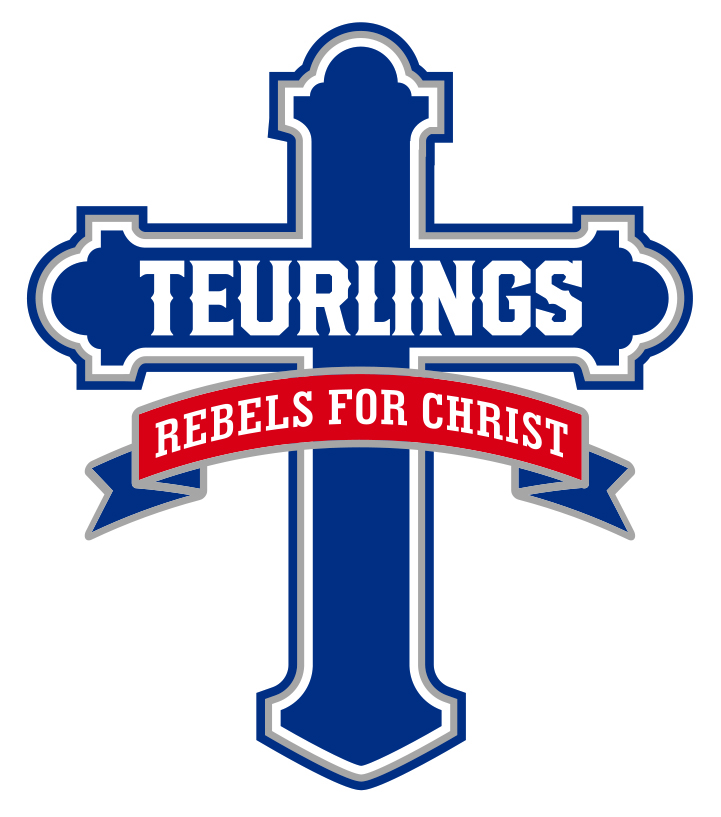 TCHS Crest
The current school crest was designed in 2018 by a team set out to update and unify our brand in order to better position our school for continued growth. The crest depicts the essence of Teurlings Catholic High School.
The Lamp represents truth and wisdom.
The Open Book denotes the quality education that Teurlings Catholic provides.
The Gavel symbolizes law and order and divides the shield into quadrants.
The Wing Foot represents athletics and skill.
The Cross with Crown symbolizes religion surrounded by branches of remembrance.
The Mantling is ornamental and decorative to the crest.
The Scroll on the ribbon carries the name Teurlings Catholic and the year it was established.